"Bellatrix" Astronomical Observatory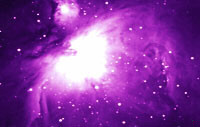 M42 - Orion nebula
Gianluca Masi, Ceccano (FR) Italy
Center for Backyard Astrophysics - Italian Station

Last update: 21 September 2005

The Planetary Society awards Gianluca Masi with the Shoemaker NEO Grant!
First image and movie from a small scope of 2003 UB313, the just-discovered object larger than Pluto!
Deep Impact hits the Tempel 1: the comet rebrightnens !!!
The Rosetta fly by movie wins the second ESA prize!
Rosetta spacecraft: movie and image
Comet C/2004 Q2 (Machholz): movie!
Comets C/2001 Q4 (NEAT) and C/2002 T7 (LINEAR) !
Asteroid 1999 KW4 movie and lightcurve!!!
! McNeil's Nebula and a few new variable stars close to M78 !
WZ Sge extremely rare superoutburst!
Welcome to the site of the "Bellatrix" Astronomical Observatory, managed by Gianluca Masi (note about the author). Here you will find a lot of astronomical images, services and information about our activities. Very remarkable is the Hale-Bopp image gallery. The observatory is also the Italian station of the Center for Backyard Astrophysics (Columbia University, New York - USA), a network of telescopes dedicated to cataclysmic variable stars' photometry. Also, the observatory is member of the VSNET Collaboration Team (Kyoto University, Japan), mainly related to cataclysmic variables. Your suggestions or comments about this site will be very much appreciated.
What time is it (Universal Time)?
US Naval Observatory

Click here
More options
Instruments
The main telescope installed at the observatory is a Celestron/Losmandy CG-11, a 280 mm SC telescope, used at several focal lenghts (f/20, f/10, f/6.3, f/3.3). It is mainly used for the research activities (astrometry and CCD photometry). To image the Hale-Bopp (and other objects), a smaller, 6-inch Vixen SP R-150S f/5 newtonian reflector has been used. A SBIG ST-7 CCD camera is employed as detector, and completes the principal instrumentation.
For data acquisition, elaboration and analysis several software packages are used: CCDOPS (SBIG), CCDSoft (Software Bisque), QMiPS32 (by Christian Buil), Astrometrica (by Herbert Raab) and IDL (RSI). TheSky (Software Bisque) is used to program the observing sessions and to control the main telescope with an encoder system.
The observing site (Ceccano) is heavily affected by light pollution.

Hale-Bopp images
Images are posted here in inverse chronological order. They are in JPG format, with no high resolution. Info about taking astronomical images are available. If you need high resolution images, please ask me for them by e-mail. Click on the image to see the full version. Please, contact me if you wish to publish one of them. This is valid for all the images presented in this site.

Copyright © Gianluca Masi







These sixtheen images of the Hale-Bopp show the evolution of the inner region of the coma, around the nucleus. They have been taken on 3, 9, 11, 12, 20, 21, 26, 31 March; 4, 6, 8, 10, 17, 19, 24 April; 3 May 1997. It is visible how the nucleus appearance has changed with the time. Reflector 15 cm f/5, CCD SBIG ST-7, elaboration: QMiPS32.
Other Comet Links
If you want more information about Hale-Bopp and comets in general, you can visit the sites below: many of them post images of mine.

International Comet Quarterly (ICQ)
JPL Hale-Bopp Home Page (mirror)
Near Live Comet Watching System
Ulysses Comet Watch Network
Comet Observation Home Page
S&T Online's Comet Page
Cometography web site
UAI comet section

Other astronomical images by Gianluca Masi
Here you will find other astronomical images taken by Gianluca Masi about nebulae, clusters, galaxies, comets and the Moon.They have been taken with the instruments discussed above.










Other General Links
You will find here indications about sources of astronomical information, weather forecasts, time and so on.


Satellites













Click to subscribe to CCD-astrometry-photometry: mailing list
devoted to CCD astrometry and photometry
Astronomy
Sky and Telescope
Astro Web index
Nasa Home Page
Hubble Space Telescope
Jet Propulsion Laboratory (JPL)
Digitized Sky Survey (DSS)
Center for Backyard Astrophysics
International Dark-Sky Association
American Association of Variable Star Observers
VSNET: Variable Stars, Novae, and Supernovae
Astrophysical Data System (Astronomical Journals and more)
Astronomical Headlines (The last discoveries)
Universal Time (US Naval Observatory)

Special thanks to: SBIG, Software Bisque and Auriga.

For every question or comment:


write me!
You are the visitor number
since 30 April 1997.
I hope you will visit this site again in the future!
Graphics design: Gianluca Masi 1997
Copyright © 1997-2005
Best in 800x600 resolution mode