Bellatrix Astronomical Observatory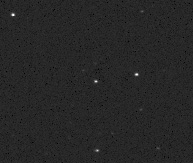 726-Joella
Minor Planets Ephemerides

This page provides ephemerides for minor planets discovered at this observatory by Gianluca Masi. Your follow-up observations will be very much appreciated.
Other observers also have their own follow-up pages, check out this list of links.
---
---
This service utilises the Minor Planet Ephemeris Service, courtesy of the IAU's Minor Planet Center. It has been made possible by Process Software Corporation, and their excellent VMS Web server, Purveyor.
The calculations will be performed on the Tamkin Foundation Computing Network.
---

Index

Indice