About the author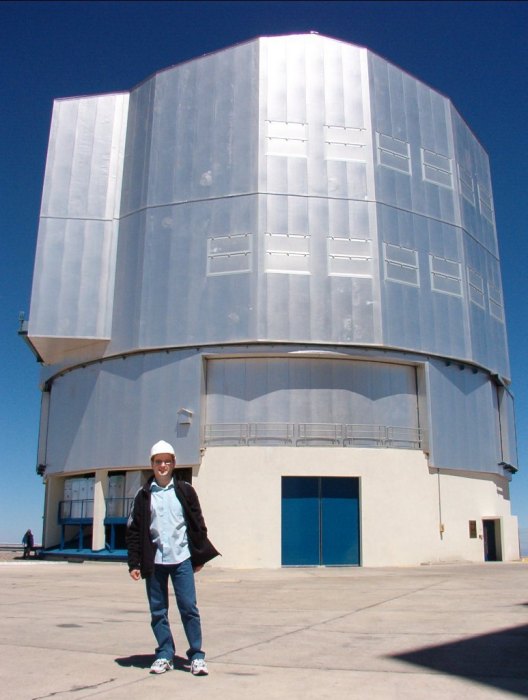 The author with one of the VLT units, Paranal - ESO Chile.
Gianluca Masi, Ceccano (FR) Italy

My name is Gianluca Masi, I am 33 years old and I observe from Ceccano, Italy, 90 km south of Rome. I'm graduate in physics, astrophysical address (UniversitÓ "La Sapienza" in Rome), with full marks; I'm currently doing my PhD in Astronomy at the second University of Rome "Tor Vergata". I'm an amateur astronomer since 1980. I have started this hobby in a singular way. One day, during the 8th year of my life, I fell for a book with an inviting title: "The Conquest of the Sky". Keeping it between my little hands, I was definitely won over by those arguments, especially by images of nebulae and galaxies. In 1983 I received my first telescope, a little 6 cm f/11 (2.3"); using it I have enjoyed the Moon, the principal double stars and the Great Orion Nebula.
In 1985 I bought a new telescope, which I still use: a Vixen SP R-150S, 15 cm (5.9") f/5 reflector telescope. It is very good, and I particularly appreciate its mount. I have observed a lot of deep-sky objects, especially galaxies and star clusters. After three years, I decided to begin a new activity, astrophotography. So, after intense studies, I took my first pictures. With time I have improved my technique and some images of mine have been published on "l'Astronomia", "Il Cielo", "Star Observer" magazines and in the important encyclopedia "Astronomia". In 1989, I was the first, in Italy, to report the disappearance of one of the Jupiter equatorial bands. Currently, I'm the editor of the variable stars page in the Italian astronomical magazine "Le Stelle".
Since 1992 I am a member of the Ulysses Comet Watch Network. In the same period, I have begun to follow a new field of interest: the introduction of CCD technology in the world of amateur Astronomy. The use of this technique is the most important activity inside my hobby. As for my scientific interests, I have been studying the fascinating issues of the cosmological distance ladder and the determination of the Hubble constant; now, I'm mainly interested in the Near-Earth Objects (NEOs), particularly the Inner-Earth Objects (IEO), having orbits inside that of the Earth (so far, just one of them has been discovered -2003 CP20, but they are predicted by the dynamical models: I've studied some observing strategies to hunt for them). I also participate to the CINEOS project, at Campo Imperatore Astronomical Observatory). I'm a very active member of the Campo Catino Astronomical Observatory. I worked at the European Southern Observatory (ESO), Chile for some months, studying Near-Earth Asteroids by means of photometry, this being my current main scientific interest.
The most intensive period of my astronomical life has been the passage of the comet Hale-Bopp. I followed it for a long period, especially when it was very bright. I grabbed several hundreds of pictures, using a SBIG ST-7 CCD camera together with my 15cm telescope. Many of them are posted on the NASA and JPL web sites. I have also set up this site, where I present my best results, together with other useful and interesting things. Also, I collaborate to the "Small Telescope Science Program", coordinated by the Deep Impact ( NASA, JPL, Ball Corporation) science team, consisting in monitoring the comet Tempel 1, which will be, in 2005, the target of an important space mission. On Aug the 1st, 1997, I discovered a new variable star near the famous Dumbbell nebula (M27). I have also started astrometrical measures of minor planets, that I submit to the Minor Planet Center and I've discovered the minor planets 1998 DA, 1998 TL7, 1999 CN10, 1999 CL12, 1999 NC1, 1999 PK, 1999 QV1, 1999 RA, 1999 RN, 1999 RS2, 1999 RL35, 1999 TN4, 1999 TZ10 and 2000 YJ8; I'm co-discoverer of 1998 SY2, 1999 RQ32, 1999 RC34, 1999 RR34, 1999 TO, 1999 TP, 1999 TQ, 1999 XS38, 1999 XT38, 1999 XE104, 1999 XF104, 2002 NJ34, 2002 OQ7.
Photometry of Asteroids is a new field of interest and I observed successfully the Aten 1999 KW4 durinng its close passage in May 2001. Also, I discovered the real nature of two cataclismic variable stars, showing they are members of the SU UMa family. On the Feb. 1998 issue of the famous magazine Sky&Telescope there is an article of mine about CCDs and small telescopes, used under urban skies. I'm a member of the American Association of Variable Star Observers (AAVSO). I'm member of the VSNET Collaboration Team, managed by the Astronomy Department of Kyoto University. I do photometry of cataclysmic variables as a member of the Center for Backyard Astrophysics (Columbia University - NY), my observatory being its Italian station) and supernovae. As for the latter, some measures are published on the International Astronomical Union Circulars. This additional activity has been possible thanks to the availability of a larger telescope (Celestron CG-11). Definitely larger are my professional activities in this field: in the near future, a section showing the main results will be available.
Also the public activity has been very intense and successful, with several talks at astronomical meetings, conferences and so on.
The asteroid (21795) is called "Masi" in my honor.
NASA has creatred a website to introtuce young people to the astronomical science, considering myself as an active example in the field.
I received several awards, both national and local, acknowledging my scientific activities.
I want to show, with my work, that also using a little telescope it is possible to obtain remarkable results. And I really hope that those who appreciate my efforts will try themselves with this challenge.

Publications (publications on popular magazines and/or newspapers are not included)
Gianluca Masi.


Home